Gifts from Retirement Plans
Your retirement-plan benefits are very likely a significant portion of your net worth. And because of special tax considerations, they could make an excellent choice for funding a charitable gift.
Retirement-plan benefits include assets held in individual retirement accounts (IRAs), 401(k) plans, profit-sharing plans, Keogh plans, and 403(b) plans.

IRA Rollover Gifts:
Aged 70½ or Older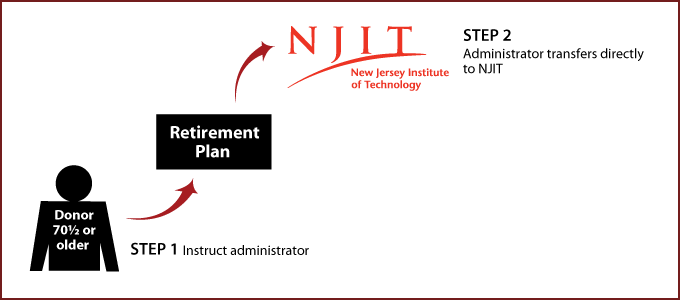 Click to
See Diagram
More Information
Contact Us
Monique Moore Pryor, J.D.
Assistant Vice President of Major and Planned Gifts
(973) 596-8548
monique.pryor@njit.edu

The New Jersey Institute of Technology
323 Dr. Martin L. King Blvd.
Newark, New Jersey 07102
Back
© Pentera, Inc. Planned giving content. All rights reserved.