Donor Dollars in Action:
Freshman on Scholarship Does Military Research Before School Even Starts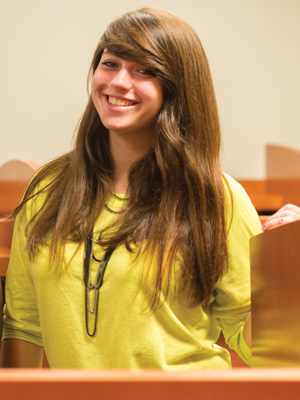 Theresa Wagner was drawn to the Albert Dorman Honors College by the merit scholarship she received and the chance to do research.
Theresa Wagner just began her freshman year as a scholarship honors student at New Jersey Institute of Technology, yet she has already completed a summer at the university researching a device that can tell soldiers if their ammunition is damaged.
Research opportunities and scholarships are among the programs supported by NJIT donors whose generosity helps the university recruit the most promising students. Theresa says she was drawn to the Albert Dorman Honors College by the merit scholarship she received, as well as the chance to do research—though she didn't expect it to begin before college did.
Early in the summer, NJIT sent out an e-mail asking if any incoming student would like to do summer research with Physics Professor Gordon Thomas, a national leader in the field of biophysics. Theresa jumped on the opportunity, helping to research a safety device called a vibration-powered-impact-recorder. Sometimes, due to heat or jostling, ammunition boxes can malfunction, especially when soldiers are moving around on a battlefield. The device will allow soldiers to keep tabs on their ammo—and that, in the end, could save lives.
"I love my research project and it's a fantastic introduction to NJIT," said Theresa, who recently presented the research at a university symposium. "I'm majoring in biomedical engineering and minoring in physics, and this research allows me to combine my two interests. I knew I wanted to do research at NJIT but never thought I'd have the chance to start the summer before college even begins. It's fantastic."
Theresa attended Morris Hills High School in nearby Rockaway, where she founded the computer programming club and was the first girl at the school to study robotics and electrical engineering. As a child, Theresa spent a lot of time with her grandfather, who had worked in the computer industry.
"We'd rip apart a computer and then put it back together again," recalled Theresa. "Ever since then, I loved technology and computers. I'd always be the one to fix my friend's computers, and in high school I took every technology class I could take."
© Pentera, Inc. Planned giving content. All rights reserved.
Disclaimer