Giving Back to Help Future NJIT Students Find Success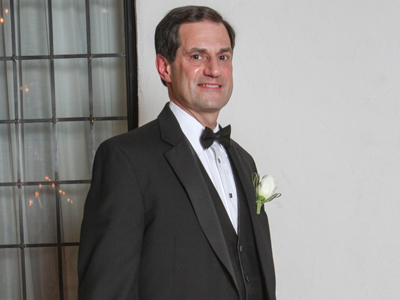 Steve Saperstein
After exploring his options in engineering, Steve Saperstein found his niche at NJIT in the business side of the university. Pursuing his B.S. in industrial administration, he and a small, tight-knit group of students spent their time at the university learning real-life lessons about risk management, accounting, and negotiation that had many applications in the business world.
"My professors were primarily engineers, even in the business program," Steve says. "Most of them were practical and hands-on. They showed us how accounting is an integral part of a business."
A Path to Success
After graduating from NJIT in 1984, Steve obtained his M.B.A. at Rutgers University while beginning his career at Prudential. As he worked his way up through the company to the position of chief operating officer of Prudential Fixed Income that he holds today, Steve never lost sight of the role NJIT played in his success. As a result, he has been an active alumnus. Currently a board member for the Alumni Association, he serves on numerous committees focusing his efforts on event planning, recruiting, and alumni involvement.
"NJIT gave me an opportunity that I took advantage of, so now I use the skills they gave me to give back to them," Steve says. "It's been a very rewarding experience."
Giving His Support
In addition to the tremendous amount of time he devotes to promoting the advancement of NJIT, Steve understands the need to provide financial support as well.
"NJIT is competing with colleges that have large endowments," Steve says. "To keep up, they need alumni support. If we've been successful in our lives, we should make an attempt to give back so more students can have a chance like we had."
Thankful for the opportunities his education at NJIT has afforded him, Steve makes annual gifts to the university and has included a bequest for the school in his will.
"With current gifts you see the immediate impact, whereas planned gifts will help down the line," he says.
Give Your Gift
"You got something from NJIT," Steve says, as a reminder to his fellow alumni. "Now NJIT really needs you."
The future of NJIT depends on planned gifts like Steve's. To learn more about how you can include the university in your estate planning, please contact at Beth S. Kornstein at (973) 596-8548 or bkornste@njit.edu.
© Pentera, Inc. Planned giving content. All rights reserved.
Disclaimer