Martin J. Szewczyk '76
First Visit in 40 Years Includes Gift in Will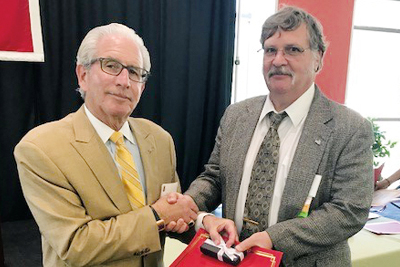 NJIT President Joel S. Bloom congratulates Martin J. Szewczyk '76 at the annual Cornerstone Brunch.
For 27 years, chemical engineer Martin J. Szewczyk '76 worked for a company where he traveled during the week and came home to New Jersey and his wife Karen on the weekends—so he didn't get many chances to visit his alma mater, NJIT's Newark College of Engineering. But that changed when he retired at the beginning of 2016, and his first visit to campus in 40 years included notifying the school that it was included in his will.
"Every year they would send me an invitation to the alumni association brunch and send information about the 1881 Society (for those who make planned gifts)—and I would set it aside because I was always working," Martin says. "After I retired, I thought that I should go see what the campus looks like—and let them know about the gift."
The bequest is in addition to the annual gifts that Martin has been making to the university for decades.
"I always contributed because I felt NCE did me a great service in giving me an education," Martin said. "I've been in contact with Monique (Moore Pryor, Esq., assistant vice president of planned giving) for the past few years, and I thought, 'We redid our wills a few years ago and put the school in—and they don't know anything about it!'"
Martin says he was amazed by how the school has expanded. "I drove the same route as when I went to school, and I was thinking, 'Where are all the parking lots? They're all buildings now!'"
He said the best thing about his education was the professors on the cutting edge of industry.
"Professor (Dr. Richard) Trattner was teaching about environmental issues early on," Martin recalls. "Two weeks after I got out of school, I was working for a plant where they wanted to know how far away from the plant you could see the stack discharge. And nobody at the plant could do the smokestack plume modeling—except me."
© Pentera, Inc. Planned giving content. All rights reserved.
Disclaimer