Your Legacy Can Drive NJIT's Future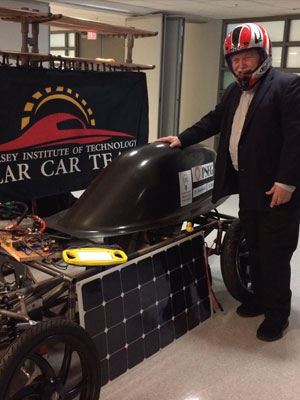 Meet Brian G. Kiernan, Newark College of Engineering class of 1970. A recognized leader in the wireless communications industry who made major contributions to the development of global wireless techniques and standards, Brian has remained a highly engaged alumnus as a volunteer and as a donor who is leaving a bequest and leading a challenge campaign to help students conduct research.
Brian currently serves as the advisory board chair of NJIT's interdisciplinary and highly competitive Undergraduate Research and Innovation (URI) program. Each year, URI offers NJIT undergraduates the opportunity to conduct research and product development under the guidance of both faculty and industry partners. He also serves as a member of the Electrical and Computer Engineering Department Industrial Advisory Board.
Aware of the critical importance of a rigorous, hands-on STEM education to our nation and the world, Brian's decision to leave NJIT a seven-figure bequest was a no-brainer. His generosity will ultimately benefit students participating in URI and those pursuing degrees in electrical and computer engineering.
"NJIT (NCE) is where I got my start," Brian notes. "It launched me into a successful 40-year career—as an engineer, program manager, corporate executive and entrepreneur—during which I was able to contribute to communications advances that have reshaped the lives of countless people around the world. I hope to pay forward the gifts that NCE gave me and help ensure that future generations of NJIT students are in the best possible position to contribute to the technological breakthroughs and discoveries that will drive the future."
In addition to his generous bequest intention, Brian is leading a $500,000 challenge campaign to raise current funding for URI. He has pledged to match, dollar for dollar, all gifts directed to the URI program prior to December 31, 2018. To learn more about this challenge and how you can participate, please visit njit.edu/uri-challenge.
© Pentera, Inc. Planned giving content. All rights reserved.
Disclaimer