1881 Society Spotlight—
Alan '55 (BS EE) and Martha Finkel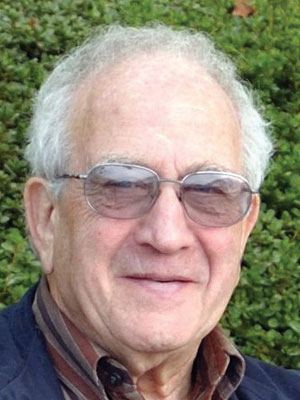 From the time Alan Finkel was a boy growing up in the Clinton Hills section of Newark, he was fascinated with radio. Intrigued by how sound waves traveled noiselessly through the air and then emerged as music from a magical wooden box, Alan became an amateur radio operator at the age of 14. His avocation fueled his interest in electrical engineering, and the program at Newark College of Engineering was the perfect academic fit for a young man with high aspirations and modest means.
Like so many of his generation, Alan juggled the rigors of his NCE coursework with the demands of a full-time job. He attended classes on campus during the day, went home for dinner, and then tested radios at a job "Down Neck" from 6 p.m. until 1 a.m. Following graduation, Alan put his degree to work as a radio and navigation engineer with ITT, ultimately transferring from the office in Clark, New Jersey, to the headquarters in Raleigh, North Carolina. Although he retired from ITT in the 1980s, Alan and his wife Martha have remained in North Carolina—where Alan continues to work as a management consultant to this day.
When he looks back on his time at NCE, Alan is grateful for the education that launched his career and trained him to dig deeper and constantly ask questions. "Engineers are trained to do one thing—solve problems." Out of gratitude for his education, Alan and his wife Martha established a charitable gift annuity at NJIT in 2006—a gift that has provided them with a reliable income stream for the past 13 years. Alan credits NJIT for providing him with the foundation for his professional success and is pleased to make a gift to the university, which will ultimately establish the Janet and Howard Finkel Memorial Scholarship in honor of his children.
When asked about the value of his NJIT degree and his time at Newark College of Engineering, Alan commented, "I got what I believe was a fabulous education."
Charitable gift annuities (CGAs) are an ideal solution for individuals who are searching for a steady source of income during their lifetimes but are eager to contribute to NJIT's future. For a complimentary CGA rate calculation, please contact Beth Kornstein, Associate Vice President of Planned Giving, at bkornste@njit.edu or by phone at (973) 596-8548.
© Pentera, Inc. Planned giving content. All rights reserved.
Disclaimer