Stanley Barauskas '61 Launches the Education of the Next Generation of Engineers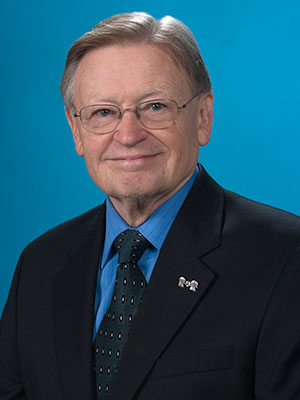 Space travel was the stuff of children's entertainment when Stanley Barauskas '61 was a boy in Jersey City. It was also a national imperative, as the United States raced its rival, the Soviet Union, for dominance in space discovery. By the time he was ready to graduate from high school, Barauskas was sure that an engineering degree would bring him closer to a role in the country's space program.
But the 2011 NJIT Alumni Achievement Award recipient might not have completed his degree had it not been for the availability of a financially affordable education. "I attended a private university on scholarship for my first year, but when I did not win a scholarship to continue there, I moved my credits to the Newark College of Engineering to complete my Mechanical Engineering training," he says.
"NCE had an excellent reputation as a technical college," he continues, "and the cost was well within my affordability."
Throughout his college years, the young man who had grown up watching "Tom Corbett, Space Cadet" and "Rocky Jones, Space Ranger" had his eye on the stars. "My engineering classes were very helpful to my chosen career in rocket science," Barauskas tells us.
By the time Barauskas graduated he was ready to answer President John F. Kennedy's call to help the country expand its space program. His response to a newspaper ad placed by General Dynamics, a major aerospace contractor, took him to California and to work on the Atlas, the first U.S. intercontinental ballistic missile.
From there, Barauskas landed at North American Aviation, where he was responsible for the installation and operational certification of the altitude-control rocket engines critical to guiding the Apollo service and command modules to the moon. Barauskas' professional credits at the company also include the Skylab missions and the symbolically significant linkup of U.S. Apollo and Russian Soyuz spacecraft in Earth orbit.
"I believe NCE provides the best training possible at a very reasonable cost. My contribution is intended to defray some of the initial expenses encountered by an incoming freshman. It's a beginning."
At Space Shuttle contractor Rockwell International, Barauskas worked on the system that powered hydraulic operation of the main engine valves upon takeoff and flight control when the Shuttle descended through the atmosphere to land. He was involved with this aspect of Shuttle technology until the final mission of the program.
In acknowledgment of his contributions to space flight, Barauskas was recognized by NASA as a Manned Flight Awareness Honoree. It is the agency's highest tribute to professionals who support the human presence in space. He has also received two Astronaut Achievement Awards, presented to individuals personally selected by those who have flown in space in gratitude for their contributions to mission safety and success.
Now retired, Barauskas is focusing on what he can to do support the place where he got his start. "I feel that any success I had in my chosen career I owe to the excellent training I received at NCE," Barauskas says. "I wish to pay back the school that provided me with the knowledge required to pursue a career in rocket science and space travel that I thoroughly enjoyed for all of my 50 years of work."
To this end, Stan has established the Stanley M. Barauskas '61 and Family Scholarship with a commitment through his estate plans. Through his generous support of scholarships at NJIT, Barauskas is helping the next generation of STEM pioneers launch their careers. "My contribution is intended to defray some of the initial expenses encountered by an incoming freshman. It's a beginning!"
Stan also sees a bigger impact of his support for NJIT students. "NJIT is an excellent investment," he says. "Technology is a precursor and an important factor in economic growth and contributes to all of society. I believe NJIT provides the best training possible for technology professionals, at a very reasonable cost."
© Pentera, Inc. Planned giving content. All rights reserved.
Disclaimer