Richard "Dick" Sweeney '82, '18 HON Champions First-Generation NJIT Students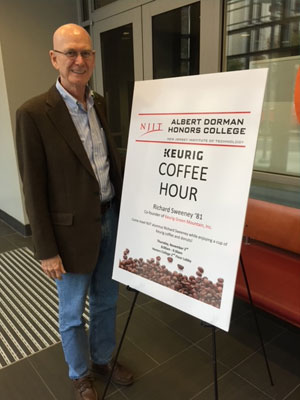 Keurig Green Mountain, Inc. co-founder and former vice president Richard "Dick" Sweeney '82, '18 HON is well known for revolutionizing our morning coffee rituals, but it was a passion for manufacturing—rather than caffeine—that led him to NJIT in the 1970s.
"Returning from Vietnam in '68, I worked for UPS until the end of the holiday rush resulted in a lay-off," he recalls. "In need of an income, I answered an ad for an entry-level factory worker; and I was introduced to manufacturing. That was my awakening—raw materials coming through the door, 200 workers cutting, welding, painting, assembling—and finally a finished product is shipped!"
"I was fascinated," he continues. "How does that happen? And more important, where can I learn about being part of making all of that happen? A staff engineer told me to check out the Newark College of Engineering."
Sweeney's determination to earn a degree is inspiring. "My first application was rejected," he says. "With a little help I was accepted into the evening program, but only on probation. About ten years later, I completed my bachelor's degree."
Sweeney's early post-NJIT career included roles as Vice President-Manufacturing for V-M Industries and President of Liberty Resources. He also served as an adjunct instructor at the university, garnering world-class advice from a more experienced lecturer.
"I happened to let one of the professors know that I was a bit nervous before my first class," he says. "He reminded me that night students are different, that they have a lot going on and not to take it personally if one should nod off or leave before class was over. He went on to say that the only time I should worry is if they all get up and march toward me!"
"However we progress as a society, it will always begin with education."
Most of Sweeney's career, however, was spent growing Keurig Green Mountain, Inc. into an $11.6 billion enterprise. With more than 27,000 employees, Keurig is the eighth-largest food and beverage company in the U.S. His invention, gracing kitchen counters worldwide, has transformed how we brew our favorite hot beverages.
Now retired, Sweeney is deeply grateful for the education he received at NJIT and for the opportunities that followed. "Without my degree I may have been a factory supervisor," he observes. "Like many NJIT graduates, I am the first among my siblings to complete a college education."
Sweeney's focus these days is on developing his skill as a pilot—he passed the check ride for his private pilot's license in 2018 and is now working toward his instrument rating—and on investing in NJIT students.
For Sweeney, flying his Cirrus SR20 represents the realization of a lifelong dream. "Flying combines the art and technology of flight and all it entails: aerodynamics, weather, power to weight ratios, and regulations on top of regulations," he says. "What is most satisfying is learning and developing an entirely new skillset that commands your attention."
Supporting NJIT students provides another sort of satisfaction. "I admire the talent of the student body, the quality of education, the commitment of the faculty, staff, and administration, and the diversity of the university community," he says. "Over the years I have been closely involved with the Albert Dorman Honors College—the rise and power of these young scholars is amazing!"
In fact, Sweeney is the Emeritus Board of Visitors Chair for the Honors College, and he has been extraordinarily generous with his support for NJIT's hard-working students. He has established the Sweeney-Lacy Scholarship to assist first-generation college students and has included the scholarship in his estate plan. His estate will also provide for the Dr. Joel Bloom Presidential Scholars Program and the Dorman Community Education Fund.
Sweeney believes in the power of giving to his alma mater. "As a donor to NJIT you can make a difference," he says. "Look at the names on our buildings—Albert Dorman '45, '99 HON; Martin Tuchman '62; J. Robert and Barbara A. Hillier—these are extraordinary individuals who, with careful thought, invested in an institution that provides the very best return on investment for talented students who might otherwise be overlooked."
Not all of the lessons Sweeney learned at NJIT had to do with manufacturing, however, "Once a professor told me that there is only one rule in communication, and that is that the meaning of the message lies always with the receiver," he says. The message he most hopes students receive reflects his own challenging path to success. "Work hard, avail yourself of every opportunity, do not limit your horizons," he advises. "And by all means, as your career blossoms, give back to NJIT!"
© Pentera, Inc. Planned giving content. All rights reserved.
Disclaimer