The Naimoli legacy lives on at NJIT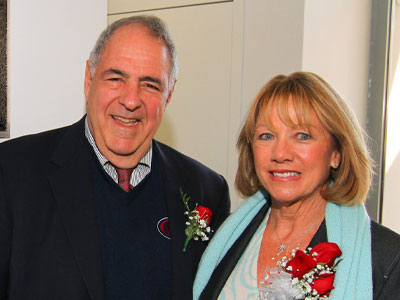 "He was so brilliant," Lenda Naimoli says of her late husband, Vincent "Vince" Naimoli '62 '09 HON. "And he loved to work. Building a major league baseball team from the ground up is not easy!"
While Vince may be most widely remembered for his success as the original owner of the Tampa Bay Rays, a move that brought major league baseball to the Tampa area, at NJIT he will always be associated with his dedication to his alma mater. Generous support from Lenda and Vince resulted in the naming of the Naimoli Family Athletic and Recreational Facility, home of NJIT's men's and women's varsity tennis programs, in 2011.
"Vince loved sports, he loved his home state of New Jersey, and he loved NJIT. It is a great feeling to continue his legacy by supporting the university and its students."
Vince's passing in 2019 was felt throughout the campus. However, the Naimoli legacy at NJIT continues through a charitable remainder trust created by Lenda and Vince that will ultimately support the Joel Bloom Presidential Scholars Program, the Margaret and Ralph Naimoli Endowed Athletic Scholarship, and the Naimoli Family Endowed Scholarship. To commemorate their exemplary generosity, the university will name the Lenda and Vincent Naimoli '62 '09 HON Turf Room in the Wellness and Events Center as a celebration of Vince's life and work and of the couple's devotion to NJIT.
"Vince loved sports and he loved his work, but he also loved family and never forgot where he came from," Lenda says. "He felt that it was important to give back." Lenda shares her late husband's love of philanthropy and NJIT. "I enjoy keeping up with Vince's charities," she says, noting that she is finding solace in carrying on his tradition of generosity. "It is a good feeling," she explains, "to help the students and to show young people that you care about them."
© Pentera, Inc. Planned giving content. All rights reserved.
Disclaimer